Hot Sell Chicken Fish Sausage Duck Smoked Furnace
Hot Sell Chicken Fish Sausage Duck Smoked Furnace
YU FENG

China

15 days

100 sets
Hot Sell Chicken Fish Sausage Duck Smoked Furnace

1. Machine introduction:
Smoke machine has the functions of cooking, drying, baking, smoked, color and other .Smoked refers to the corresponding wood is not completely burned to produce volatile substances for smoked the process. The purpose of smoked meat products is to make the meat product dehydrated, giving the product a special fragrance. It has the characteristics of low energy consumption, high output, easy cleaning, adiabatic and sealing performance, fast heating, smoked fragrance, automatic temperature control and timing control. This product is a meat processing enterprise and individual processed meat (ham, Smoked chickens, smoked ducks, smoked goose, smoked fish, etc.) must be set up.
2. Technical parameters:
Model
Capacity
(kg/batch)
Power
(kw)
Dimension
(mm)
Trolley Dimension
(mm)

HT-YX50

50-70

16.5kw

1950*1100*1840

900*820*1060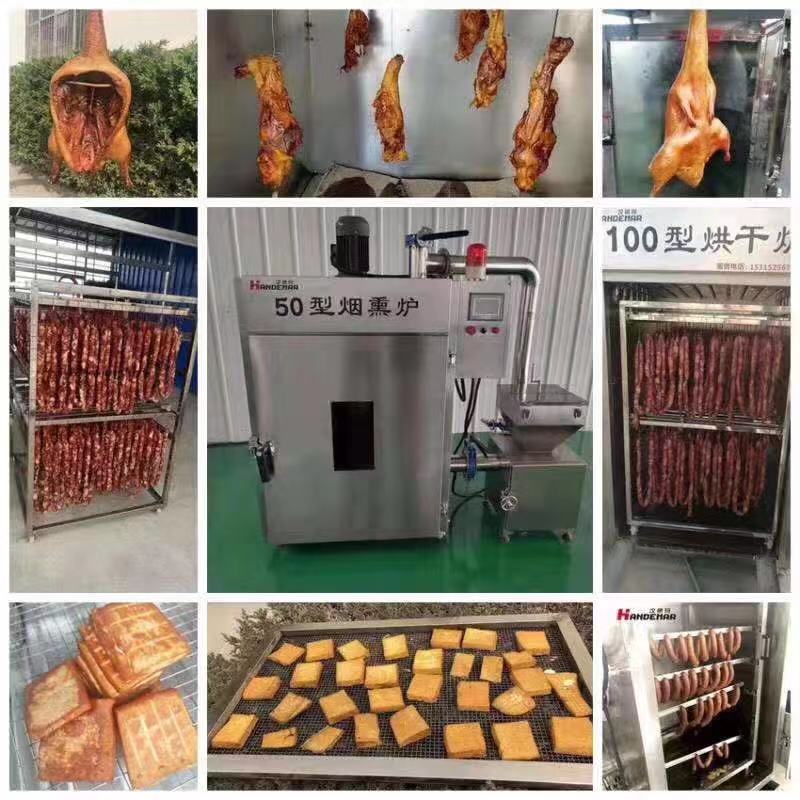 We also have other models:
Model
Capacity
(kg/batch)
Power
(kw)
Dimension
(mm)
Trolley Dimension
(mm)

HT-YX30

30-50

15.75kw

1900*1050*1650

800*655*900

HT-YX100

100-150

18kw

2190*1200*2100

950*860*1160

HT-YX 150

150-200

19kw

2170*1220*2400

970*970*1400

HT-YX 250

250-300

25kw

2380*1150*2900

1090*1050*1670

HT-YX500

500-600

47kw

2380*2360*2900

1030*970*1960

HT-YX1000

1000-1500

79.5kw

4400*2310*3150

1050*1070*1930